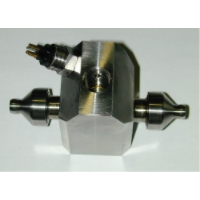 Load Cells to perform measurements under sea water, up to 2,500 m
This family of Load Cells, allows to perform extremely accurate load measurements, even very low ones, on mechanical components operating on sea beds, which are environments characterized by high pressure and salinity.
This Load Cell signals are not affected by pressure acting from the outside (that is equivalent to 250 bar at 2,500 meters of depth). Constant sensitivity is preserved and zero-value variation is negligible from the sea bed up to the sea surface.
Considering the Load Cell shown in the picture, load is applied through the central hole and the signal is transmitted ‐ already amplified ‐ through the lateral waterproof connectors.
read more