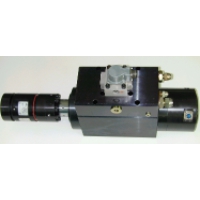 Hydrostatic Servo Actuator
Actuator for static, dynamic, and fatigue tests, with very high speed and accuracy. Its main characteristic is the presence of hydrostatic Supports and near null Friction. A non-hydrostatic version can be realized too, adopting low friction seals and preserving the following features:
Very compact size, both in length and in external diameter
Possibility to add a front or read flanging
Possibility to add a front and/or read articulated junction
Coaxial displacement transducer integrated inside the stem
This actuator is particularly adapt for use in fixed Test Benches, for instance when testing hydraulic shock absorbers, in which case it is important to grant loading precision at high frequencies and high speeds.
read more