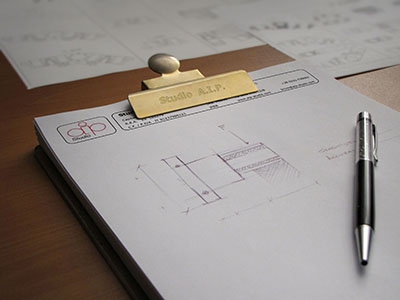 Engineering Studio
Studio AIP is an engineering firm founded in 1981 by Ing. Antonio Brivio in order to capitalize in the industry his knowledge about tests on structural components gained in the aviation field, which has always been technologically advanced.
In many years of intense study and design, we have developed various technologies ‐ some of which are patented ‐ for the full implementation of both test benches/tests and special sensors for automation and measures.
We employ qualified technicians and consultants working in the field of test benches, testing, instrumentation and electronic measuring transducers of various types. For these activities we are able to provide expert advice, from requirements definition to "turnkey" realization.
Our strength is the flexibility in responding to the various needs of the Customers and the continued commitment to innovation.
All our activities are firstly discussed in our engineering Studio. According to the specific needs of our Customers, we study and design:
Test benches for Structural mechanical tests, including various hardware (Servo Actuators, Load Cells, and Electronic Equipments) and Software for both Management and Real Time Command, Control and Measurement
Special Sensors for automation and measure, in particular strain gauge based
Most common requirements include: the validation of critical mechanical components in accordance with specific regulations; the verification of predetermined mechanical characteristics of each product at the end of the production line (e.g. the observed deformation at predefined loads); accurate measurement of forces and weight in critical conditions (e.g. salty environment, variable temperature, presence of parasitic loads, etc.); the adjustment of the loads within production machines (e.g. presses, wire tensioners, etc.).
In the design phase, we exploit the potential of modern 2D and 3D CAD systems and perform finite element analysis, essential for an initial estimate of the stress.
Customers
Among our Customers, spread all over the world, we include:
major industrial companies operating in the aeronautical and space sectors, automotive competition (e.g. F1), motorcycle and bicycle, railway, medical and manufacturing of various types
research centers and top-notch universities in Civil, Mechanical and Aerospace
Cyclism
Since the late 1990's we have been increasingly involved in the cycling sector, providing Specific Solutions for Posture&Research Centres, Biomechanics and road biking.
The most significant projects include:
since 1999, the first cranks instrumented to measure independent per-leg power (i.e. Left and Right) developed by the athlete
since 2006, the MEP system which can also measure the point of application of force along each pedal axis
since 2011, the large-scale production of instrumented cranks mainly for road use