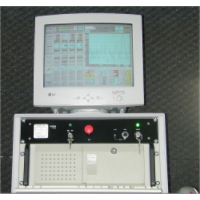 Single channel Workstation ‐ type A
This Electronic Instrumentation is designed to command and control one mono axial Test Bench. Its software runs in Windows environment and implements:
the generation of standard test sequences (e.g. sinusoidal, triangular, square, ramp). Others can be defined of various type, being programmable either through the GUI, or imported from external file
reading, storing, and processing of the signals, with dynamically costumizable plots (y/t, x/y, etc.)
the start, stop, and freeze of the Test
per-channel measurement of the peak values
the control of alarms set on critical signals, with customizable warn thresholds
The software is also designed to perform static, dynamic, block, and spectrum tests, with guided settings available to the operator.
read more